COVID-19 (Coronavirus) Update - G3 Group Plan of Action
As we are all carefully watching the COVID-19 (Coronavirus) situation change daily, G3Group has actively taken steps to ensure the safety of our team and the continuity of our operations.
We've had disaster preparedness and business continuity plans in place for events such as natural disasters and pandemics for some time to mitigate the impact of these occurrences with minimal disruption to our day to day operations to ensure little to no affect to our ability to deliver our services to clients.
According to the Government and this article from McKinsey & Company, there are 3 scenarios of how COVID-19 could evolve: Covid 19 - Implications for Business
Following is a summary of our current position around the 3 scenarios. Currently we are working within the Extended Exposure response.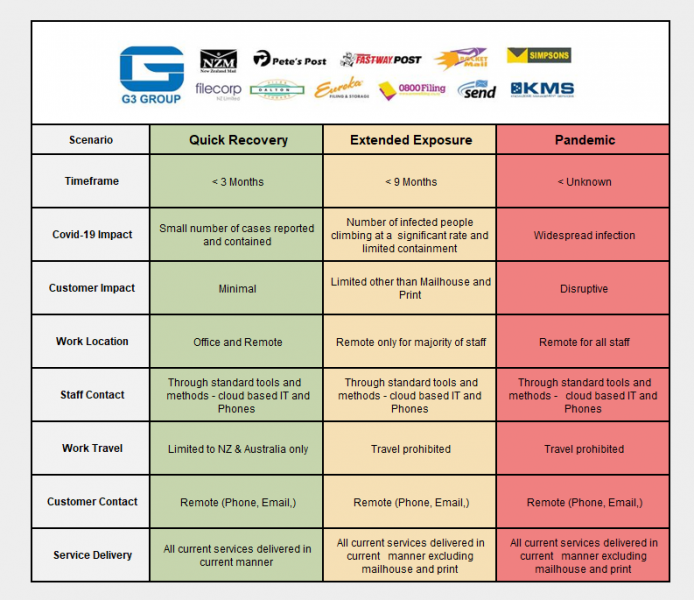 Key staff have been asked to work from home where able until the situation changes. Any production staff required to be on site must ensure they follow the correct procedures and keep a level distance between each other as recommended by the MOH by not spending more than 10-15 minutes in close proximity with one and other. Limiting any group meetings or don't have them at all. Keep a social distance of 1-2 metres apart in work areas (that applies in the lunch room as well).
We want to assure you that we do not anticipate significant disruptions to our operations as a result of the Coronavirus. As mentioned most of our staff have the ability to work remotely and we have our critical infrastructure hosted in a data centre.

We will continue to monitor the situation, taking advice from numerous sources, paying special attention to government mandates, and the Ministry of Health via its daily updates and Healthline and communicate any changes to our position.
Please note that our building currently has restricted access only for the receipt of goods and services. Any requests for site visits will need to be approved by management to determine that it is warranted and that the correct course of action is being taken. Any site visit will also follow strict hygiene practices to further mitigate any type of contact.
As always we are committed to providing the same quality of service to you, so business as usual.