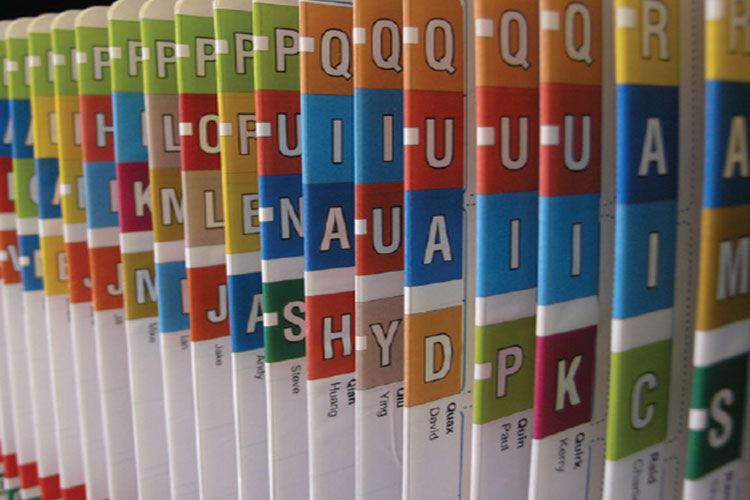 Colour coding labels are totally flexible, they allow the system to be specifically designed for your business or industry needs.
Why colour coding?
Poor indexing, misplaced or duplicated files all add up to an unorganised filing system. This will cost your business time, and money. Colour coding provides bands of colour, speeding up filing and retrieval time by up to 40% and helping to quickly identifying any misplaced files.
A misplaced file creates a break in the colour pattern and becomes highly visible – removal and replacement becomes a quick and simple action.
Files can be identified from both sides making the system easy and quick to use.

Coding options
C-ezi systems are totally flexible, this allows the actual coding system to be specifically designed for your business or industry needs.
Alphabetic – Can be implemented using the 1, 2, 3 letters of the file title. A band of colour is formed as the alphabet runs through the files. Final identification of the file is assisted by the name of the file title label.
Numeric – Immediately creates blocks of colour patterns giving each file its own unique position within the total filing system. An ideal method where security is required. Decimal coding and terminal digit coding are also methods employed using simple numeric coding.
Alpha Numeric – This method extends the advantages of alphabetic and numeric. The combination of both Alpha and numeric coding is most appropriate where special identification is required – this method offers unlimited divisions of subject matter.
Colour flashes – Can be used where information is required without opening the file. IE: Grouping into areas, subjects or people responsible etc. Colour flashes can also be used to show progress on the action required with the file. Flashes and/or year labels are used regularly to show the age of a file which is especially useful in culling a filing system.
Year Labels – Can be used to show the age of a file, especially useful in culling a filing system.
For specific details on our C-Ezi Labels or to order see our online shop, or check out our Print C-Ezi DIY software.
For help choosing the right coding system for your business contact us to speak to a consultant, we can even help you implement the system correctly.